Five years ago, almost to the day, my life changed in a flash. And it changed dramatically. That is because I did something I had never in my life pictured myself doing. I completed a Triathlon!!! I crossed the finish line! And then, six weeks after that, my life again changed in a nanosecond.
The decision to stretch and do something that I had never in my life pictured myself doing (a Triathlon) came from a relentless feeling of helplessness. Have you ever been there? It's the knowledge that there is nothing you have the power to do that will significantly change something or someone.
Before my decision to compete in the Iron Girl, I was in a place of helplessness and hopelessness. It was 10 years that my sister lived with stage four lung cancer, interstitial cystitis, broken bones in her back, and migraines that plagued her most days. There was nothing I could do to make the cancer go away, or to mend the broken bones, or to release the agonizing pain from the interstitial cystitis and the migraines. I wanted to help her, to ease her pain, and I couldn't.
Not being the type to just sit still, I came up with a plan that would help to keep my hopeless symptoms at bay. I decided to train for a Triathlon that would be a fundraiser for my sister's out-of-pocket medical expenses. I either ran, biked, or swam almost daily for months. I got stronger physically and friends and family were donating to my cause without hesitation. I crossed that finish line and I raised money for Karin. I had a feeling of triumph as I fell into Karin's arms. She surprised me by showing up to the race to be there waiting for me at the finish line; using her walker that held extra tanks of oxygen. I was not able to take the cancer away but I was able to "do" something, and it was something for Karin!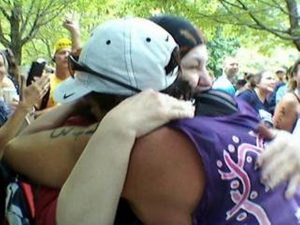 After the Triathlon I decided to keep training. So, back out I went: running, biking, and swimming. On one of the biking days I realized the odometer on my bike was no longer working. I knew where there was a Bike Doctor, not far off the trail, and was heading over to ask someone to take a look at the bike. I had to cross a six lane highway separated by a large median strip of grass.
I crossed over the first three lanes and was waiting on the median strip to cross over the next three lanes. As I stood there, a car pulled up and stopped in the lane closest to me, only a few yards away. The woman waved at me to cross in front of her. I shook my head, and said out loud "no, PLEASE, you go". She did not. She continued to wave her arm indicating she wanted me to pass in front of her. By this time, several cars were now behind this woman's car. They all began to wave and blow their horns. I continued to stand firm that I would not go, and that they needed to proceed. The seconds continued to click away, and then the second lane of traffic slowed to a stop. So, now I had two lanes of cars stopped; waving at me and blowing their horns that I should go across. I finally surrendered and began to walk my bike quickly over the lanes.
The third lane was wide open, except for the car that was traveling 50+ miles an hour, and did not see me. That car hit me. I was thrown 30 feet and sustained multiple injuries, including broken bones, ligaments and muscles all along the right side of my body. I also suffered a traumatic brain injury (TBI).
I was flown to Shock Trauma in Baltimore MD and admitted to the resuscitation unit. Surgery was scheduled immediately, in order for me not to lose my leg. First my life, and then my leg, was saved by the outstanding work of the surgical teams at the University of Maryland Shock Trauma Center. While in the acute rehabilitation hospital, I had to complete three hours of rehabilitation therapy a day, six days a week. There were days when the pain and exhaustion were so intense I wanted the nurses to let me stay in bed for the day.
Then, I would remember how many people were out there pulling for me, praying for me, sending me healing energy. I would kick myself in the butt and tell myself to get the hell out of bed. How could I let anyone down by being so lazy? Well, because I had a cast on my right leg, an external fixator on my right arm, a brace on my left arm, and staples going from the top of my head to my neck. That's why!!!! Nope, not good enough. You can't have everyone out there praying and rallying for you, and sit around doing nothing. I needed to believe in myself and to work, and work hard! I needed to get out of bed and get into that gym for my three hours of therapy.
About 1 ½ years into the recovery, I got back out on the trail; not on the bike, but definitely by foot. As friends and family learned that I was back on the trail, I would frequently get comments about how wonderful it was that I was back to jogging. My standard response was to explain that I wouldn't exactly call it a jog; maybe more of a hobble-jog because I continued to have a limp in the right leg.
Then, one day when I was out on a hobble-jog, it hit me that any one of us might at some point in our lives need to hobble-jog. Whether it is physical, emotional, relational, or psychological – we might have to hobble-jog. It also hit me that needing to hobble-jog did not preclude me from crossing the finish line. I may not run as fast as I once did, but that does not mean I can't keep moving forward and eventually get there.
At about the same time I was beginning my hobble-jog thinking, I was also hounding myself on a regular basis with questions: Why am I here? Why didn't I stay dead? I wouldn't be here if there was not something I am supposed to be doing, but what is it??? I woke up asking myself these questions, and I went to sleep asking them again. I finally had a few friends I used to call my more "woo-woo" friends start telling me that I needed to stop making so much noise about it. If I could learn to slow down and reduce the vibrations surrounding my body and spirit, it might show up. "Just be quiet Susan, and if there is a message, it will get through!"
As I thought more about the hobble-jog analogy, I decided that I wanted to do something with all the learning that had taken place as a result of my near death experience. I wanted to encourage and support others who felt as I did when I was in that bed aching from head to toe, not wanting to face anything beyond the walls of that hospital room. Even more importantly, I wanted to find answers to the huge question I asked after 12 months of rehabilitation therapy for my brain injury, "Now What???!!!!". The fact that casts and braces are removed from arms and legs does not mean the brain injury is healed. Once I reduced the panic I felt while searching for answers, the solution came to me. In 2016, HobbleJog Foundation, a 501c3 nonprofit was launched with the mission statement: HobbleJog Foundation Supports Teens and Young Adults Recovering from Neurological Trauma, Inspiring them to Reach Their Full Potential. In the first two years, we presented three grants which provide funds to what may be one of the answers to the "Now What" question. My vision is that persons in recovery from a TBI will not find themselves unable to continue their recovery following acute treatment.